Desert King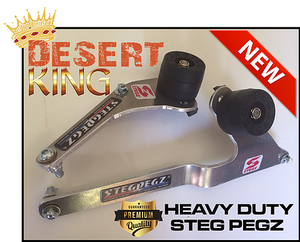 DESERT KING Heavy Duty STEG PEGZ $274 AUD per set* You can also run 1, 2 or 3 rubbers. All included with correct mounting bolts!
For The Hard Core Desert/Off-road Rider
5mm Thick 5083 Grade Aluminium Plate (3mm standard)
40mm Rubber Protrusion. For Serious Grip! (13mm standard)
50mm Rubber Adjustability back and forward (same as standard)
Only selected models available
To purchase, please proceed to Buy Now page and choose your StegPegz. You will have the option in the drop down list to select Desert King HD model
Can't find Desert King Steg Pegz for your model?
Simply send  us a message below
And we will see what we can do.
 * There is an added $15.00 AUD shipping charge per set of StegPegz for Australia orders. 
Additional charges apply for International orders outside of Australia.