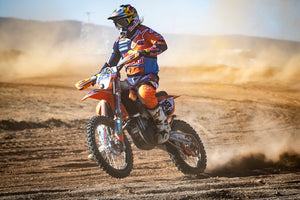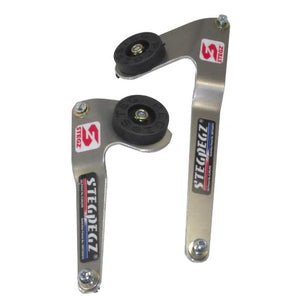 What are Steg Pegz?
Unmatched in off-road motorcycle control. The Steg Pegz allow you to grip and control with your legs not just your arms!
Immense control reducing arm pump & fatigue.
Learn how they work!
PATENTED AND TRADEMARKED
CANADIAN PATENT NO. 2664594 US PATENT NO. 8,388,008 AUSTRALIAN PATENT NO. 2007302615 EUROPEAN PATENT NO.EP2074014
DESERT KING Heavy Duty
For The Serious Desert/Off-Road Rider!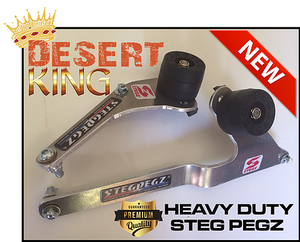 Testimonials
"StegPegz allow me to use my legs a lot more to control the bike which makes it easier on my arms. I've used StegPegz in every Finke I've won and I can't imagine riding there without them. I'd need to back off the throttle at some stage to rest my arms if I wasn't using them. StegPegz let me go as fast as I want for the entire race"

Ben Grabham - Factory Motorex KTM 4x Finke Desert Race Champion
"StegPegz allow me to use my legs a lot more to control the bike which makes it easier on my arms. I've used StegPegz in every Finke I've won and I can't imagine riding there without them. I'd need to back off the throttle at some stage to rest my arms if I wasn't using them. StegPegz let me go as fast as I want for the entire race"

Ben Grabham - Factory Motorex KTM 4x Finke Desert Race Champion